In light of all the toy recalls and chemical scares lately, I'm concerned about what I buy. I'm not a freak about it, but if there is a safer alternative and it's not outrageously expensive, I'll give it a try.
But I have to admit that I'm skeptical. Vinegar just doesn't clean my floors as well as my usual cleaner, although it works great on windows. So when
PBN
gave me the chance to review Clean Well's new All-Natural Antibacterial Foaming Hand Wash, I came into it with an open, but cautious mind.
Clean Well sent me 3 of their Foaming Hand Washes and 2 bottles of their spray sanitizer - 1 large and 1 travel size. I received the Ginger Bergamot, Lavender Absolute, and Orange Vanilla. The hand wash bottles are striking. I love color, so right away I realized that Clean Well has put some serious thought into what people want today. The labels also come off the bottles easily, so they look nice in your kitchen or bathroom.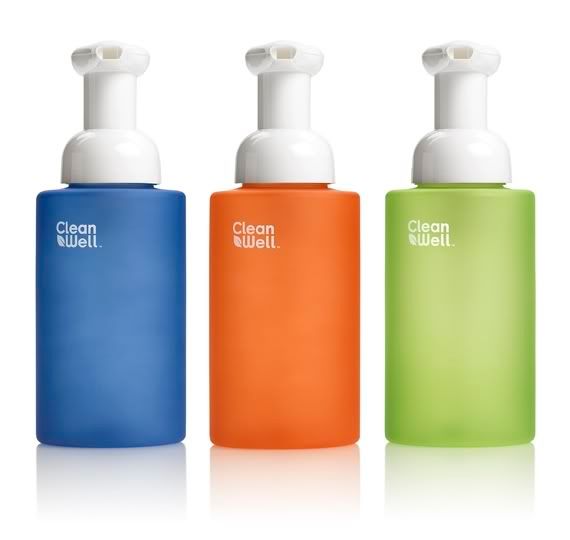 Now let's get to what's different about Clean Well. Clean Well is all natural. The antibacterial agent in the soap is
Thymus Vulgaris
Oil. Of course, the name makes me immediately think of a stripper down at the Gentleman's Lounge, but it's actually from the thyme plant. Clean Well is
triclosan
free even though most other antibacterial agents on the market contain it. If you don't know what Triclosan is, go ahead and Google it or click the link. Go ahead. I'll wait.
OK. I bet you use antibacterial gel on your hands and maybe your kids' hands, right? And then the kids stick them in their mouths. Uh huh. Plus, some believe that overuse of Triclosan could lead to resistant bacteria, just like with antibiotics. Triclosan free is good.
Now you're asking, "How is the soap?" It's great. It's a foaming soap, so it lasts longer, my kids can use it without me worrying about them squirting half the bottle into the sink. Plus, it smells great. I don't know about you, but if a soap just smells nasty or mediciney, I'm not going to use it. But these smell nice. My personal favorite is the Ginger Bergamot, which has a sort of musky, floral and citrus smell. The smells are a tad bit heavy and I'd be really happy if they came out with a slightly lighter smell, but that's the
only
thing I could think of to improve.
The best part? You can buy Clean Well at Target. You can also buy an assortment of the
Foaming Hand Wash
online for $13.99, but I love that I can pick it up at Target on my weekly diaper-and-too-many-other-things-I-really-don't-need run.